Joined

Apr 19, 2015
Location
This is
H-LOD
, a
curvy body
nude mod for all DOA5 girls, made with
custom meshes
and textures.
LAST UPDATE (03/03/19):
Now all variants are included in a single pack (base nude mod, bushy variant and cel shading option
Available for every official (female) character, along all their body types (HLUD, NRM, HLOD, CS-HLOD, ULTRA, LETHAL)
Now shaved and bushy variants are merged in a single model for each character (the overall pack now uses 50% less disk space)
Now compatible with AutoLink. Pack ready to be swapped on every official female character of DOA5LR (How to use it: [DOA5LR] H-LOD Nude Mod (curvy body) - COMPLETE EDITION)
Among other features, this customized model has more vertex density than the vanilla one over tits, ass, thighs, belly button and other body parts, providing an improved softness, without being a hi-poly model. The shading on the model is also fully customized ("cleavage" and "bleavage"). I've also fixed
some little defects
from the original model.
This body has been carefully adapted to match the shape of every girl on the game, keeping their original proportions, while retaining the characteristic features of Honoka's body: big tits and ass. I've also created a set of custom body textures for each one of the ladies.
Bust size and shape for all the girls is "HLOD" by default.
All the girls are available in 5 bust/body shapes (HLUD, NRM-HLOD, HLOD, ULTRA-HLOD and LETHAL-HLOD)
Boob clipping. Associated with collision physics; the models retain physics from the original vanilla breasts.
High ankle bending. One of the most annoying problems on bare feet doa models, related to the skeleton. For some reason team ninja decided to make just one kind of base skeleton for each girl, considering that they wear high heels by default.
"Merged toes": Another vanilla model issue.
The pussy mesh may look weird under certain circumstances (wide open legs). it's a little weight related problem in that zone, a lot worse before.
Some models are suffering a weird bending behind the knees.
There may be some other minor problems associated with neck seams, caused by slight tone differences and
A little F.A.Q., kind of.
Some important info about the naming of the models ("word modding")
http://www.loverslab...hots/?p=1447295
This weird effect is related to the name written on this Honoka-based models.
All H-LOD mod files (TMC, TMCL, --C, --P), must have written the word "HONOKA" on it, in capital letters
. It can't be honoka, Honoka, honoko, Hanako, sweettits, yummytits... you name it, otherwise this weird (normal map related) effect will occur:
I will use this screenie as example to show this bug (thanks to LGMODS)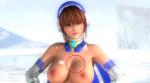 Some examples of good and bad file naming:
KASUMI_
HONOKA
... good
HONOKA
_KASUMI... good
BIGTITS_
HONOKA
_whatever... good
something_
honoka
... wrong
something_
Honoka
... wrong
whatever_something... wrong
It sound weird indeed, but this has been proven.
timmyc, for his great DOA5ObjTmcConverter tool, which allowed me to edit my models and UV maps in 3dsmax.
Dotouku, for his TMC tool suite, used to remove/insert meshes, and for his blender scripts, useful to create my custom meshes, and UV edits.
sf234, for his texture tool, useful to insert and replace the custom textures
barbell, author of the pussy mesh in which I was inspired to make the pussy of this mod (inner labia). I say inspired because the mesh is quite different compared to the original now. I have also used his orignal inner labia texture, with some slight modifications.
Special thanks
To my friends for their great support,
timmyc, siframe, JackWall, DigitalCookie, LGMODS, IshidaCorp, gatto tom,
GuachaLover23
, among many others friends.
Using lnk reshuffle, replacing the first or second costume of each character. Some swaps may show some weird white texture issues (example: swap on Honoka COS 1).
Thanks to my friend siframe for this quick and useful tutorial!

1) unzip lnk reshuffle (duh lol)

2) go to the version folders inside the Lnk folder- 1.02, 1.02a etc, and open the one for your game version. put the dinput.dll into your game directory

3) open lnk reshuffle with the start bat

4) select the STEAM original game exe in the top bar, the 3dm launcher won't work but your adjustments will still show when running the game from the 3dm launcher.

5) select a character from the first drop down which defaults to 'Akira'

6) select the costume you want to switch from the next drop down across - default 'cos_001'

7) highlight the tmc in the list that appears in the left hand box, then press 'swap' on the bottom right

8) navigate to the mod tmc you want and press open. Lnk will think about it for a second and then if swapped successfully the font of the selected tmc in the left hand box will go dark red rather than black. Repeat for the tmcl, no need to worry about any of the others.

9) When you've swapped everything you want to press quit. You're done.
Now there is a new, and maybe the definitive option: AutoLink
Alternatively you can use DLC Tool to make your own custom DLC.
DOWNLOADS:
This is H-LOD, a new nude mod for all DOA5 girls I've made using custom meshes and textures, based on Honoka's body. Among other features, this customized model has more vertex density than the vanilla one over tits, ass, thighs, belly button and...
www.undertow.club
NYOTENGU HLOD Wings & Dildo Pack v1.1(TMC-TMCL)
Since Nyotengu lacks "some things" on my HLOD nude mod, I've made this pack to give her back her wings... and also a little purple toy.
Avaliable in all the HLOD flavors (HLUD, NRM, HLOD, ULTRA, LETHAL)
6 variations available for each body type (30 in total):
2 main variations: black and white wings
3 secondary variations:
-Wings only
-Wings + dildo
-Wings + dildo + "tengu geta"
Credits to "the internetz" for the dildo mesh

("the penetrator", import from Saint's Row 3)
Screenshots:
Nyotengu HLOD: Wings & Dildo
Screenshots
Some HLOD-based mods made by other modders
[DOA5LR] Honoka UHLOD Remix | Undertow
http://www.loverslab...-miqote-import/
http://www.loverslab...-saafrats-work/
http://www.loverslab...ri-marie-h-lod/
http://www.loverslab...ghter-and-more/
http://www.loverslab...ff-lod-modpack/
Check my other mods:
A small collection of HLOD mods based on Honoka
Honoka Topless & Flower Pasties mods
Honoka & Marie Rose: NEW NRM & LOD NUDE MODS
LUD Nude mod (small breasts mod)
Hail 816 8008135!
thanks to DOA5LSR for the gif
Last edited: