3DXChat - Meredian [v57] (2020/ENG)
3DXChat is the web's newest downloadable interactive game strictly made for adults who want to connect and feel a unique sensual experience in the virtual 3D world of gaming. Looking for hot 3D virtual sex with a real partner? Chat, date and enjoy lifelike 3D sex. Enter the world where all your secret desires come true, where you can be anyone and where you can do anything you want...
Features Meredian version:
The game is completely disconnected from the Internet (except for the radio).
The mailbox is entered only in order to identify the local user (whether it is real or such: 1@1.1), and the password does not matter at all.
This is only an offline version of the game, but you are still able to play with bots ~(characters made by you) and to have alot of fun!
These so called bots could be found at your friends list.
Gameplay:
Left-Click on a spot on the floor to move your character there.
CTRL+Left-Click on a spot on the floor to move your bot there.
Right-Click (Holding) moves the camera and the view point.
1 - Makes the character moan, not only in sex mode
CTRL+1 - Makes the selected bot moan, not only in sex mode
2 - Makes the character ejaculate / squirt (cum), only active in sex mode
CTRL+2 - Makes the selected bot ejaculate / squirt (cum), only active in sex mode
ESC - Open/close Menu
F1 - Settings
F5 - Free Camera
F6 - 3rd person camera view
F7 - 1st person camera view (good for VR)
SHIFT+O - Oculus Rift mode on/off
SHIFT+Z - Hide/show user interface
SHIFT+C - Hide/show mousepointer
Screenshots: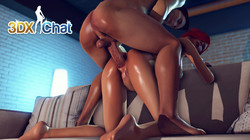 ​
Release date:
September, 2020
Genre:
Sex simulator, Erotic adventure, Seduction, Masturbation, Big tits, Oral sex, All sex, Anal sex, Group sex, Lesbians
Censorship:
NO
Developer / Publisher:
3DXChat
Platform:
Windows
Language:
English
Size:
2.05 GB
Download:
Keep2Share