Project ATMOSPHERE [v0.2 + Ic patch] (2021/ENG/RUS)
The action of the game takes place in the near future. The year 2025. The main character Dan - a young man who just recently graduated from the university majoring in "Organic Robotics and Artificial Intelligence".
It would seem a great profession, but our hero can not decide what to do next. I'm sure you can help him make up his mind! He is surrounded by different people, among them there are close friends, and some even closer than he thought. Sudden incident will make our hero wake up from "hibernation" and become a real man, who is ready to do anything to achieve his goal...
Features:
H images and animations of 1920x1080 scenes
Independent lines story of characters.
NPS has its own characteristics such as mood, sexual arousal, even types of sexual orientation. They influence the progress of events and relationships with the player.
Player has the basic characteristics
As the game progresses, the player will receive special points that will determine his character and the variants of game's ending.
The game is full of music and sound effects.
Gallery of reawards.
Changelog:
v0.2
More than 520+ new renderers. 3700+ lines of code 11 new rewards renders
New events in the storyline..
Jesse's Story.
Cute Events with Phoebe.
New characters from the Mirror.
Next event with Monica.
Continuation of Maya's story.
Interesting news about Maya
Improved translation of Game Day 14. Thanks to SkylarMM and Luccy!
Fixed small save game compatibility.
Added 6 new locations for free play.
Improved interface
Added groups for characters
Added the ability to choose a character avatar.
Added some new mechanics in the game.
And other little things.
*To keep from having problems loading a saved games, do not unpack the archive into the folder with the old version of the game.
*Soon we plan to release patch 0.2.1 with English translation corrections 1 and 2 episodes
Screenshots: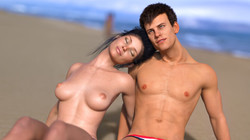 ​
Release date:
15 January, 2021
Genre:
3DCG, Male Protagonist, Masturbation, Milf, Sci-fi, Vaginal Sex, Handjob, Oral Sex, Voyeurism, Incest, Female domination, Animated, Big tits, Romance, Stripping, BDSM, Creampie
Censorship:
NO
Developer:
Dr MAD
Platform:
Windows, Linux, Android
Publication Type:
In Progress
Tablet:
It isn't required
Language:
English, Russian
System requirements:
OS: Win XP/Vista/7/8/10 or linux | HDD: 2 GB
Size:
2.32 GB
Download:
Keep2Share
Ic patch:
Keep2Share
Android version:
Keep2Share