Hustle Town [Episode 8] (2019/ENG)
The game is set in an European town, your Uncle used to be a big shot there and you visited him a few times as a kid. He is retired now and mostly sold up but he still owns a cafe and a hostel, so you get free food and a free bed. The reason it's called Hustle is you essential have no money and are to lazy to work for any, you have a few dollars to buy a joint and a beer now and again but that is about it, you need to hustle everything else. You come across a variety of girls and the only way to bed them is to help them out, so you have to hustle whatever they need, or you need, to bed them...
Changelog:
Episode 8 is done.
204 images
1 static H scene (depending on who you see one particular night)
2 Animated scenes
I have made a new way to display animations, there is no need to use the keyboard anymore, if there are any angles, etc buttons will appear at the top right of your screen.
About this episode.
This will be the last episode for the year, I do not plan on releasing chapter 9 until early February. I need a break for a little bit, then I am just going to plod along for a few weeks with no pressure. I will be working and will update, it will just be at a slower pace. I figure during the festive season fewer people are concerned about lewd games.
That being said, I tried to make this with the feel of a final episode of a season, sort of a one-off special so to speak. Instead of going around the map each day seeing the girls, each day is a day with one of the girls, with parts that overlap. Some mean something, some are just fillers. A lot of it is in first person too.
About the final scene.
In the final scene you are talking to someone, lets say there are 10 pics in the scene, I have put a long fade between each one and the conversation between each pic makes no sense at all to the previous one, this is an attempt to imply time had moved on and make it seem like you have been there for hours. I would like feedback on this to see if I pulled it off.
As per normal I will add an Android and Mac version when I know it works fine.
Screenshots: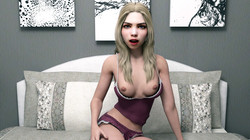 ​
Release date:
7 December, 2019
Genre:
3DCG, Animated, Male protagonist, Dating sim, Vaginal sex, Creampie, Mobile game, Tiny tits, Anal sex, Oral sex
Censorship:
NO
Developer / Publisher:
Mickydoo
Platform:
Windows / Linux
Publication Type:
In Progress
Tablet:
It isn't required
Language:
English
System requirements:
OS: Win XP/Vista/7/8/10 or Linux | HDD: 1 GB
Size:
890 MB
Download:
Keep2Share