This is kinda nostalgic necropost about "Vampires: the Masquerade - Bloodlines" (2004)
For modern times this game offers nothing really interesting in ryona aspect, but still old fans of the game itself may be inpsired a bit by watching Jeanette die, bouncing her heavy cleavage.
Initially this game hadn't much of ryona potential - there are no female enemies (except one in her monster form). There are a lot of bystanding gals (prostitues, club dancers, etc), but they weren't sexy enough. And most ubersexy characters - Jeanette & Theresa Voerman, ViVi Velour - weren't allowed by script to hit or to kill.
But, with the use of resource unpacking software VPKTool (or maybe any other Source engine resource files unpacker) its possible to swap any model in the game, lets say, to Jeanette. Most videos below is Jeanette in the deadly situations she wasn't supposed to be in by original script. Also there are some videos with ViVi and a couple of unnamed female NPCs.
I didn't try to swap male goons with firearms to Jeanette/ViVi, but I suppose it's possible too. If so, there even may be some fan for zako lovers!
some screencaps from videos: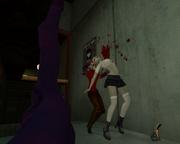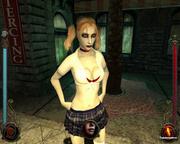 Folder with videos (42 items, 229 MB total):
MEGA provides free cloud storage with convenient and powerful always-on privacy. Claim your free 50GB now
mega.nz